I once again have something wonderful to say about my blogging buddy
Lala
, she is being a brave little soldier and is dedicating the month of March to loving her body, and sharing the experience with all of her readers. Here's the kicker, I am joining her on her mission to explore and learn to love herself, but of course I am applying it to myself, and learning to love myself more. This is such an awesome idea, and I already know that it will be a challenge. Anyhow, she started this project on March 1st, and today is now officially March 7th, so I have a little bit of catching up to do. Please hang in there with me as I completely lower my guard down and expose myself a little more on my blog.
Day 01:
Have a
Self Love Photoshoot
and list
5 Things
that you love about your body.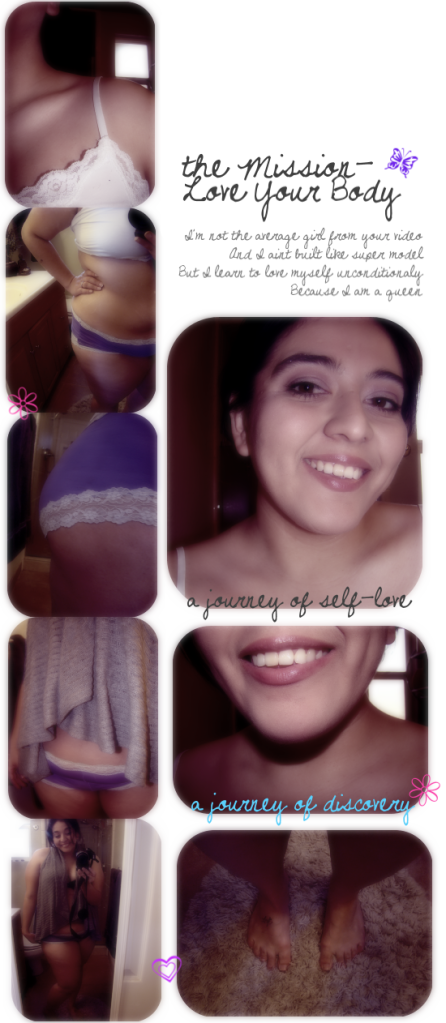 I ♥ my big ears. I ♥ the shape of my eyes. I ♥ my fat legs. I ♥ my feet. I ♥ smile.
Day 02:
Post-It yourself with loving, encouraging words.
Day 03:
This activity is about reflecting on the "good" and why. Share the reason why you appreciate your body and all it does for you on a daily basis.
I love my
big floppy ears
because they give me something to play with when I get bored, but most importantly because the allow me to listen to the beautiful sounds of nature, and the kind words my husband whispers to me.
I love
the scar on my chin
because it tells a story of my youth, and a crazy adventure.
I love my
shoulders
because they are always ready to be there for someone to cry on, and because they feel so good when I get them rubbed.
I love my
booty
because shaking it makes dancing so much more fun.
I love my
feet
, especially my right foot because it hold a special tattoo dedicated to my brothers.
Day 04:
It's time to look at our not so favorite things and turn that negativity to a positive! List 5 things that are not your favorite (about your body) but why you still love it and how you can make it better!
I really don't like my
waist
, but I still love it because even if it's a little wider than what I would like, my waist gives me a place to put my hands when I am angry, or a place for him to wrap his arms around when he wants to pull me near. I can work on this by
eating better and working out.
I really don't like my
skin
, but I still love it because it feels nice when it touches my loved ones. I can work on this by treating it to
fancy soaps/lotions.
I really don't like my
knees
, but I still love them because they help me to walk without looking like a stick person. I can work on this by
working out.
I really don't like my
arms
, but I still love them because they allow me to embrace those I love. I can work on this by
working it out!
I really don't like my
nose
, but I still love it because it's like my grandma's. I can't really work on it, but
that's okay with me
.
Day 05:
Give yourself seven "my body is" statements.
my body is
a dwelling for the holy spirit.
my body is
off limits to drugs & sexual abuse.
my body is
shared with my husband.
my body is
unlike anyone else's body.
my body is
juicy.
my body is
the carrier of my soul.
my body is
strong and beautiful.
Day 06:
Time to show your self some love! The Post assignment for day six will come in two parts! Part One, This
Saturday
Sunday
treat yourself to something, a bubble bath, a massage, paint your toes, a healthy meal, a movie, a NAP, it does matter what it is as LONG AS IT MAKES YOU FEELS GOOD AND IS GOOD FOR YOU! I can't stress enough that we don't DO for our self like we should, so here is your day, do it up, little or big just get out or stay in and make you body feel loved!
As you may have guessed, part two will be SHARING what you did, pictures if you would like or just the story and how it made you feel and will you plan to do this in the future. Enjoy yourself, spoil yourself, Love yourself!
Well, I treated my to
two days
of sleeping in and wearing sweats, at least for the most part. I have had a very busy week so I needed to kick back and just chill. My hubby doesn't know this yet, but I am also getting a
massage
tonight!