Day 11
It's no secret that we are so influence by what we see, hear, and read. To the point where we abuse are bodies to inmate what we 'think' is perfect or right. We HAVE to stop this and that way of thinking, we have to save our future daughters from this. But like all things "bad", let the GOOD out weigh it. Please share you favorite 'Celeb' who is a positive role model, for you, health wise, attitude, life style. Tell us why this person inspires you and makes you feel better about you.
"I wanted to remind people I`m just flesh and blood. I falter. I am poor. I am blind. I am pitiable. I am naked. But I`m here and that is the blessing. The gift of life."
I absolutely love this woman. Jill Scott is one of my favorite singers, and her performance in Tyler Perry's movie, Why Did I Get Married?, was fantastic. Jill is a strong, beautiful, courageous, and talented woman, and I admire the way she stands proud of who she is, but she does it in the most humble way. Listening to her music makes me feel proud of who I am, and it makes me feel beautiful and sensual. I love it when a woman with curves can carry her weight and make it something to envy.
At the Essence Music Festival in July 2006, Jill Scott spoke out about how women of color are portrayed in the lyrics of rap songs, and in rap music videos. Scott criticized the content for being "dirty, inappropriate, inadequate, unhealthy, and polluted" and urged the listening audience to "demand more".
Here is a little video for one of my favorite songs, Golden.
I'm holding on to my freedom,
Can't take it from me,
I was born into it,
It comes naturally,
I'm strumming my own freedom,
Playing the god in me,
Representing his glory,
Hope he's proud of me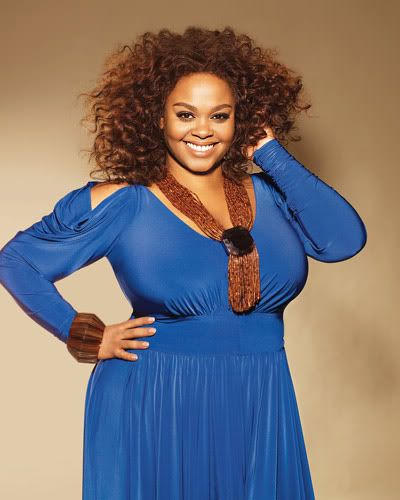 "I really feel that if are 300lbs or 130lbs you have to find the beauty within yourself and let it radiate."
Day 12
Let's keep this moving... Sometimes we forget just how strong we are or how well we can handle things. Today I want to give us all a REMINDER of who and what we are. So day 12 we will make a couple of list, so pick away the make-up, push-up bras, high heels, we need to look beyond the OUTSIDE and appreance and actually reflect on who we are as a person. I've once heard, the most beautiful women can still be the ugliest...
list a: tell me 5 things you are made up of...
I AM JAYKA AND I'M MADE UP OF..
1. strong faith
2. compassion
3. l-o-v-e
4. thoughtfulness
5. creativity
list b: what keeps you going?
I AM JAYKA AND THIS IS WHAT KEEPS ME GOING...
1. my warrior husband
2. the love of my family
3. prayer
4. the sound of happy children
5. salsa, merengue, and cumbias
list c: tell me who you are.
I AM JAYKA AND I AM...
1. a proud latina
2. a sexy fat chick
3. a hip-hop head
4. an artist
5. a honest friend